Michael Brown «Khacchad:Mule», 82 minutes (English, 4K)
In Nepal mules are vital to the economy, making a huge contribution to people's lives and livelihoods. Mules are a cross between a male donkey and a female horse, and in Nepal they have an amazing story to tell. Bred near Delhi in India, they are sold at the huge Barabanki Equine Fair and walked for three days into Nepal. In Nepal they work in huge industrial brick factories and as pack animals portering goods into the high Himalays. Michael Brown spent a year filming a documentary, travelling with the mules and making relationships with the diverse people involved. His filming has been used to affect government policy in Nepal to protect working equines, and to develop better veterinary support programmes.
Bárbara Tavares «A stop to Santiago», 25 minutes (Spanish, English, Portuguese, Full HD)
Ins and outs, day and night, joy and pain, friends and strangers – those are the contrasts in the "Camino de Santiago". The "albergue" – a hostel that serves as retreat and place of communion, becomes a home away from home. Daily rites and rituals. Marked by the passage of time and pilgrims, the "albergue" collects their vestiges and, from it, builds its own story.
Sami Myllys «#Bicyclediary», 57 minutes (Finnish, Full HD)
Jaska Halttunen, 40- something cycling nature blogger, got a new bike some years ago and found love for cycling all over again. Soon his bike trips were longer and finally Jaska got an idea to ride the full length of Finland, from the south point of Finland in Hanko to Nuorgam, northest place in Lapland. With hardly no experience in camping he planned to pack just a hammock and camp in woods. His over 2000 kilometres routeplan included trails, dirt roads and detours to Finland's the most beatiful nature sigths such as caves, ravines, rapids and other impressive places. Take a deep breath and and join the adventure.
Paweł Jaworski «The Spirit Of Flatness», 27 minutes (English, 4K)
The Spirit Of Flatness is a documentary film about traveling through the country of Finland, snowboarding and figuring out how to practice this sport in such difficult (flat) geographical conditions, practically without any mountains. As you know Finland has some of the best snowboarders in the world, so we invited two interesting professional riders – Janne Lipsanen and Axel Thelen to our trip. They will tell and show us how snowboarding is done in Finland. In the film, we are driving 350km deep into the Arctic Circle and show the highest mountain top where probably no one has been seen on a snowboard before. Axel and Janne like most Finnish riders have never seen their own "mountains", that's why we've decided to do this trip. This story solves the mystery of such a big and great culture of snowboarding up there.
Tevfik Hoş «UNDERGROUND CAPPADOCIA – Rock Carving for Survival», 24 minutes (English, 4K)
In Cappadocia, the story of civilization begins with the rock carving. The rock carving was a major breakthrough for survival in natural habitats and during the wartimes. A mysterious mega underground cities were carved into the soft volcanic rocks in the central Anatolia by Hittites, Greeks and Romans.The underground cities were built with the knowledge and the most sophisticated defence systems well beyond its time. Ancient rock carvers in Cappadocia mastered in the art of crafting columns, arches, churches, houses and tunnel networks so unique of their times.Cappadocia was a stronghold for early Christians thanks to its underground communal life and the sophisticated defence system. Underground Cappadocia gives valuable messages about ancient civilizations and co-existence with the difficult environments in the nature.
Tevfik Hoş «THE SURVIVOR – HAGIA SOPHIA», 34 minutes (English, 4K)
City of İstanbul had been devastated in every century by earthquakes. But one of the most historic structures, HAGIA SOPHIA, despite being very close to the earthquake fault lines, has been standing for 1500 years. This monumental temple, survivor of deadly earthquakes, contains the secrets of Istanbul's historical earthquakes.
Oliver Weinfeld «A is for Arak», 12 minutes (English, 4K)
A short yet sweet film about booze in Lebanon. From Beirut to the Bekaa Valley, exploring the history, distillation and appeal of the grandfather of all spirits – Arak.
Lorenzo Andrade Astorga «Patagonia Triple Crown», 53 minutes (English, 4K)
A group of kayakers find themselves in the difficult mission of running the three less explored and most dangerous rivers of the south of the world.
The Pascua River, Bravo and Baker. They will overcome the difficult tests that the Patagonia will put on them, in addition they will learn about of the complicated environmental situation that Chile is suffering in its fight for fresh water.
Cedric Strahm «Objectif Sauvage», 82 minutes (French, 4K)
The journey of three young filmmakers seeking to discover and record the wildlife of the Noel Kempff Mercado National Park, one of the most secluded and untouched places in the Amazon rainforest.
Dominik Bari «Oymyakon: The story of the coldest inhabited place» 28 minutes (English, Full HD)
A one of a kind documentary Oymyakon tells the story of the people from an isolated village located deep in the Northern Siberian taiga, known as the Pole of Cold. Witness a day in the life of the citizens of the coldest inhabited place on Earth and discover the challenges they face in this inhospitable landscape where the lowest ever recorded temperature stands at -71.2°C (-95.8°F).
Dominique Snyers «Altaitude» (2018), 26 minutes (French, English, Full HD)
Everything is bigger in the Altai, the mountainous frontier between Mongolia, China, and Russia. This is what Damian and Dom discover there, skiing the high summits for three weeks and enduring early spring storms.
Opening up to the vastness, they must overcome their differences and learn to survive together, totally isolated at their high-altitude base camp, a tiny yurt in an expansive terrain of snow.
Once liberated from the modern electronic appendages, the 19 year old Damien immediately enters into resonance with the Altai Mountains of the Tavan Bogd, the Five Saints. He is the one opening the door to the sacred dimension of the place and to the interaction that its inhabitants nurture with them.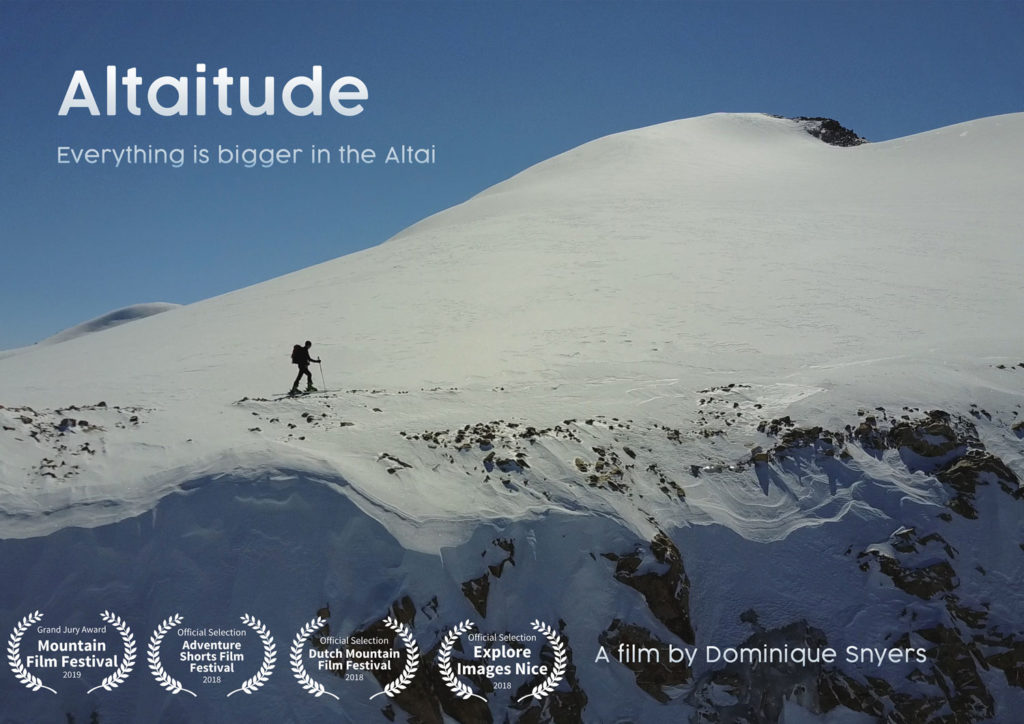 Dominique Snyers «Loic and the Flolopapys», 46 minutes (English, Franch, Full HD)
Twenty two year old Loic has become a passionate climber after having received his first pair of climbing shoes at age six. Together with Florian, Pablo and Pierre, they form the inseparable "Flolopapys", bringing their energy and good vibes to the farthest reaches of the climbing world.Although each is unique, they complement and support each other like a band of brothers. You'll fall under the spell of their humor, friendship and fragility. But can Loic use the Flolopapys energy to overcome his haunting fear of heights as he confronts some of the toughest climbs on the planet?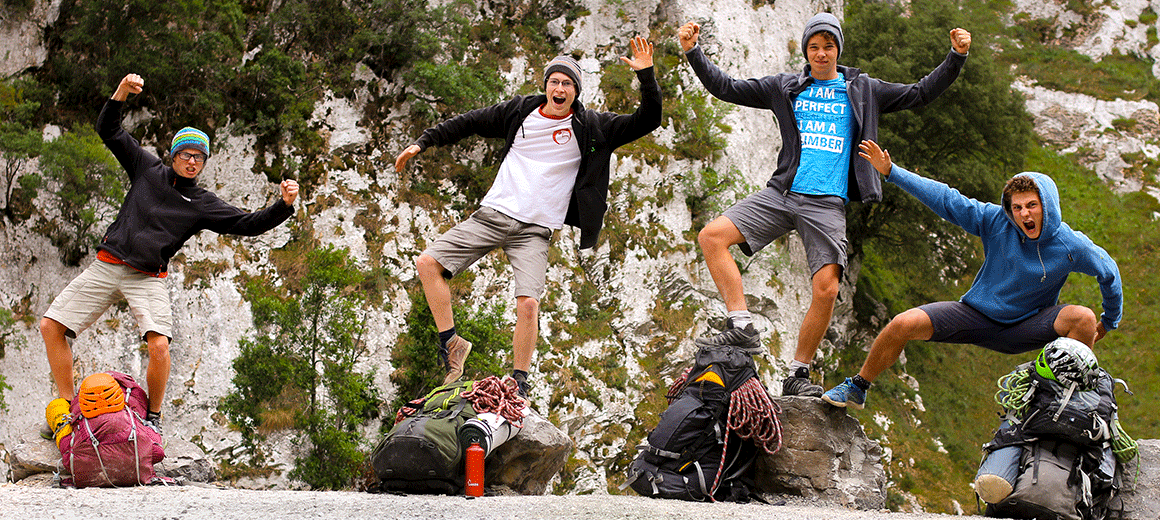 Alessandro Piu «Back To The Roots», 27 minutes (English, Full HD)
Back to the Roots is journey around the magic Island of Sardinia, located in the middle of Mediterranean sea, visiting the incredible places of this land and discovering the great values of its culture. Surfing is the key, a tramit that makes this great adventure begin. This journey made by Alessandro and its old car, is characterized by the respect for the environment and the sea, the friendship, the love for mother nature and the strong desire to finally meet his own roots. Back to the Roots wants to bring back the lost values to the nowadays, showing what surfing really means.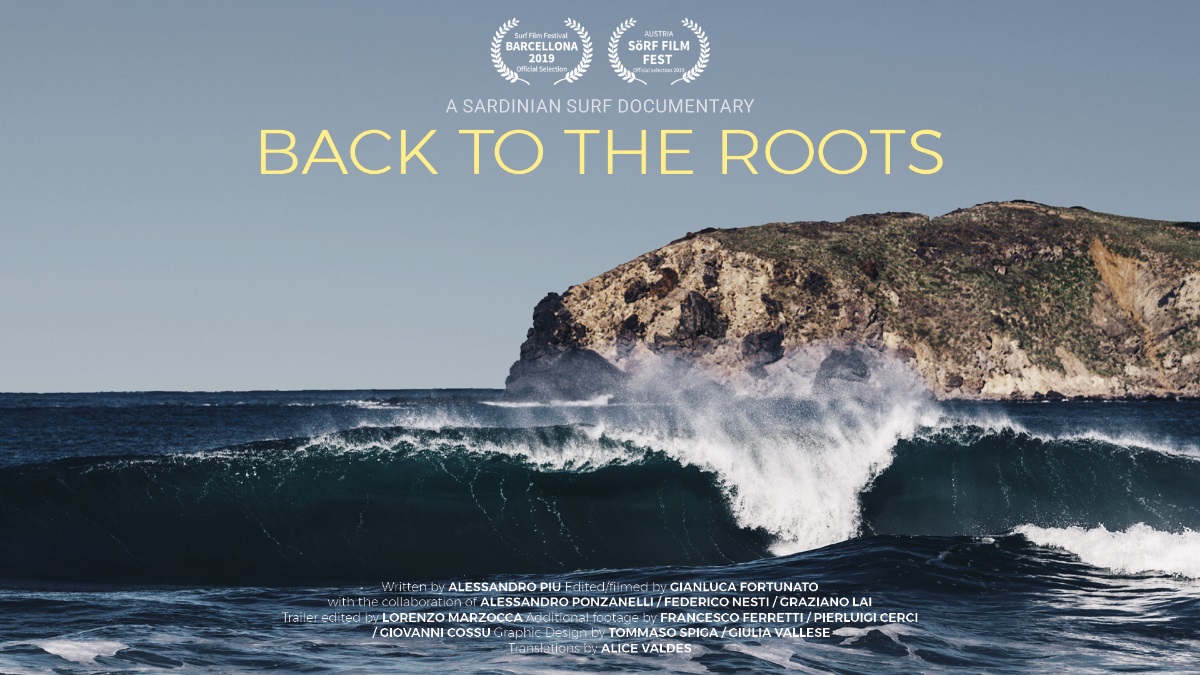 Iara Lee «K2 and the Invisible Footmen», 54 minutes (English, Full HD)
Following a group of climbers attempting to climb K2 in 2009, on the 100-year anniversary of its landmark 1909 expedition. Experience the adventure, peril and serenity of a group's attempt to climb the most challenging peak on earth.
Jesco Puluj «The Odd Monk», 1 hour 23 minutes (English, Full HD)
The Odd Monk is a personal journey through modern day Buddhism. German first time Filmmaker Jesco Puluj travels around the world, meeting a variety of monks and nuns to discover the essence of Buddhism.
András Mátai «4 faces of Indonesia» (Hungarian, Full HD)
«4 faces of Indonesia» is a 4 part documentary series which was shot in Indonesia by 3 hungarian travel bloggers. The aim of the series is to present local tribes who are living their life in a traditional way, following their ancestors' legacy. Our film takes the viewers on a extraordinary journey into the deepest and the furthermost points of Indonesia.
Part 1 – Toraja – Life and death (48 minutes)
There is only one sure thing in life: death. The Toraja people are aware of this, moreover they celebrate it to the most. These people have a somewhat rough and almost imcomprehensible funurel customs and ceremonies. For example living with a deceased family member for many months is absolutely beyond imaginable for us. But not for Toraja people. In this film, you can learn many more strange things from the word of the Torajas.
Part 2 – Bajo – The Sea Gypsies (45 minutes)
There is a group of people in Indonesia, who have been home to the ocean for centuries. They are called "bajo", but perhaps, most of us know them by "the sea gypsies". While several generations used to live together on the open water on boats, their lifestyle has completely changed. Is this permanent or just a temporary state? This documentary episode answers these questions, as we visit one of the Bajo village.
Part 3 – Mentawai – Born in the Jungle (46 minutes)
Poisoned arrows, tribal tattoos and local shamans. This is the Mentawai! An indigenous tribe living deep in the jungle in a remote corner of Indonesia. In addition to their simple life, their specialty is the tribal, traditional tattoos, that cover their bodies from the bottom to the top, and which are made the same was, as centuries ago (according to the researches – is one of the oldest on earth). Despite the Indonesian government's development assistance, the Mentawai people managed to preserve their aboriginal lifestyle.
Part 4 – Bali – Visible and Invisible (46 minutes)
Bali is an exotic island paradise with luxury beachfront villas and breathtaking natural resources. At least according to the postcards. In reality, the island has much more to it. The ancient religion of the Balinese, their astonishing customs and their unique art fundamentally determine the everyday life of the island. However, these things remain unknown to most travelers. In our film, we present these to the viewers.
András Mátai «Giant Slaves», 46 minutes (Hungarian, Full HD)
This expository documentary is shedding some light on the southeast Asian elephant industry.
What is this dark secret? And why is it harmful for the elephants? What is behind the latest trend "no riding"? What are the ethical elephant parks, and are they really in favor with their beloved animals?
Jakob Carlsen «Digging Deep», 48 minutes (Danish, 4K)
Digging Deep is a self-shot film from Jakob Carlsen documenting his experience training for and completing two rides of the Arizona Trail Race—1,250 kilometres from the Mexican border to Utah. The full film is a collection of footage Jakob gathered during training rides and from his GoPro during both events.
Alvaro Moreno «(R)evolution Champenoise, the Vineyard Rules», 55 minutes (French, Full HD)
Champagne is probably the vineyard that has been most industrialized in France. The economic success of Champagne has led to the omission of traditional viticultural practices and the use of synthetic chemicals. This documentary is a tribute to the winemakers of the Champagne (vignerons), whose respect for the soil and love of the vineyard are causing an authentic revolution in the production of Champagne.
Kurt Jacobsen «American Road», 1 hour 48 minutes (English)
This documentary explores the artistic, musical and literary resonances of the mystique of the road – and especially of going off the beaten track – in American lore. The Westward expansion, the Dust Bowl era, hobos, post-war suburbanization and the Beat critique of it; hitchhiking, the upheavals of the 1960s and early 1970s and the current generation of backpackers clutching their Lonely Planet and Rough Guides. American Road ultimately probes the meaning of what it is to be an American, not just a wayfarer.
David McMeeking «A Southern Quest», 25 minutes (English, Full HD)
A winter expedition to the Antarctic island of South Georgia, led by Stephen Venables and Skip Novak, owner of the famous polar yacht, Pelagic Australis.
Ferocious winds forced the team to abort initial plans at the far south end of the island. However, snatching victory from the jaws of defeat, they sailed further north and succeeded in making first ascents of the beautiful Trident peaks, which overlook the route taken Shackleton's legendary traverse of 1916.
Montse Portabella «Latitud 80», 52 minutes (Catalan, Full HD)
An expedition to sail towards the end of the world, a broken dream, a journey to oneself. This is the story of an obsession. The documentary Latitude 80º explains the birth and collapse of a project that sought to see the frozen ice cubes of the planet, and proposes a reflection on the motivations that lead us to enter the unknown.
Émile Dontigny «Welcome to Nain», 24 minutes (English, Full HD)
In March 2019, Estski realized a backcountry skiing expedition in Nunatsiavut, an Inuit-owned autonomous territory of the Province of Newfoundland and Labrador (Canada). More specifically, in two areas around the village of Nain in Labrador: Fraser Canyon and Kiglapait mountains. These mountains and canyons are very little visited in winter and several locals even mentioned that they had never seen anyone ski these corridors. We focused on trying to meet interesting people from Nain who had something special to share about their life on the big land. This led us to meet Joey, a fishing boat captain and a passionate outdoorsman, Noah, a young outdoors guide and kayak maker, as well as Jonathan and Aaron, two young snowboarders from Nain.
Benoit Delfosse «Fly Spiti», 56 minutes (French, HD)
Two of the most experienced paragliding pilots engage in exploration of the Spiti Valley in the Indian Himalayas.They set of on an adventure to find out why almost nobody tried to fly in this place where, according to Rudyard Kipling, gods live.
Ciaran O'Connell «TransSiberia», 35 minutes (English, Full HD)
'TransSiberia' is a short documentary centred on a journey of the main route of the Trans-Siberian Railroad across Russia and follows Irish filmmaker Ciaran O'Connell as he visits some of the main attractions along the 9,000km journey during winter. The film explores the opulent western cities of Saint Petersburg and Moscow and moves across Siberia to see the more modest Eastern side, as well as everything in between the far ends of the world's largest country. We learn about Russian superstitions, beautiful underground metro systems, heroes from the past and present and even a taste of the filmmaker's home country Ireland in an Irish Pub in Novosibirsk!
Tomek Wisniewski «The Scrag», 30 minutes (Polish, Full HD)
Krzysztof Suchowierski, young man from Poland (live in England) is amazing traveller. Krzysztof cycled 3,500 km of Siberia in the winter. His main motivation was to visit the places where Polish exiles prisoners were sent by Soviet Regime, but not only, also Russians, Germans, and many others. His lonely trip to Kolyma (Russia) had a similar message. A modest man.
Rohini Chandra « This Beautiful Journey #VirtualTravel to India », 79 minutes (English, Full HD)
Here's a travel documentary film unlike one you have seen before. It will remind one of the light, fresh, and simple moments they had while living in or visiting India during their summer vacations. Or it will inspire them to visit their own motherland to reconnect with their humble roots. Shot completely on the go, Rohini, a light-hearted and free-spirited queer tomboy, takes us on a "virtual" journey through Haryana, Delhi, and West Bengal. She offers real and raw mini adventures on a spontaneous roller-coaster ride through a section of the new and old India. Her journey is called "Yeh Sundar Safar" in Hindi or "This Beautiful Journey" in English because it unfurled as just so!
Maxime Gueho «Adulescent», 22 minutes (French, Full HD)
This documentary tells the story of a father and son crossing the Atlantic on a 10-meter sailboat. Christian (the father) and Maxime (the son) go for 3 months, to face storms, damage, equipment that breaks but without ever giving up their objective: the West Indies. Leaving from La Rochelle, they were far from imagining everything that would experience during this journey.
Rong Hua «Cou» , 21 minutes (Chinese, Full HD)
Pasuya is an indigenous child of the Cou people in Taiwan, living in the city. His grandfather led him to the traditional Cou house in Alishan, from where he shared stories from his childhood memories, hoping to acquaint Pasuya with his own culture. Through the grandfather's description, the audience can also take a look at the traditional lifestyle of the Cou people back in the 1930s.
Ji-Hun Chang «Bike & I», 20 minutes (Korean, Full HD)
In Bike & I we ride on a journey about a bicycle mechanic passionate about cycling with ordinary cyclists from a variety of backgrounds. During our bicycle journey into South Korea's mountainous landscape, our cyclists' conversations uncover some hidden effects of cycling on people, on nature, on society and on cycling being like life itself. Bike & I's OST blends the mechanical sounds of a speeding bicycle with traditional Korean music.
Bertrand Lemeunier «Growing on two wheels», 28 minutes (English, French, Full HD)
Growing on Two Wheels is Vanessa's love story for bike trips. Over time, the challenges become very different when cycling as a family. During her journey from ages 32 to 40, she will have learned to overcome her doubts and step out of her comfort zone.
Fulvio Terminelli "Scotlanders", 20 minutes (English, Italian, Full HD)
Sсotland is a planet, and we decided to explore it landing on its surface, by motorcycles. A dance of wheels on the Scottish roads; a dance of dreamlike colors to the notes of the Red Hot Chilli Pipers, the most iconic Scottish bagpipe band.
Christoph Schaaf «Lines of the Silkroad», 2 h 22 min (English, Full HD)
Lines of the Silkroad is a film about the courage to set off into the unknown, to leave the hamster wheel of work and consumption behind, to give up security and to dare an adventure.
Daria and Christoph get out of everyday life, quit their jobs, their apartment and embark on a journey into the unknown. Alone on their own, they set off on their recumbent tricycle from their front door in Munich in the direction of China, carrying only what the bicycles can carry. The journey takes them to the edge of Europe at the Black Sea, they cross the wild Caucasus and in the summer heat Iran, fight with sandstorms in the desert, experience fairytale ancient cities and arrive at the Chinese border after many months in deepest winter in a snowstorm.
Valerian Ponsero "Letter from Arizona", 7 minutes (French, Full HD)
In a shady motel room, a lonely French photographer is writing letters, recounting his journey through the heat and dust of Arizona.
In November 2019, I flew from my French rainy town to the dusty heat of Tucson, Arizona, in the heart of the Day of the dead celebrations. Oscillating between amazement and homesickness, I tried to best capture what a lonely traveler, could feel, in the letters I sent to my beloved relatives.
Lucio Arisci «The Yellow Queen – a road movie», 87 minutes ( English, German, Full HD)
A one-way trip from Cologne (Germany) to Bamako (Mali). We cross Europe and the largest desert on the planet
on a 12-meter yellow bus that will start its second life in Bamako.
Yiannis Kolozis «Yiorgos of Kedros», 82 minutes (Greek, Full HD)
A journey in time through the eyes of two generations of filmmakers, at the same remote island in Greece from the '70s until now. Yiorgos Kolozis went to Donoussa for the first time in 1972, there was no electricity or tourists then. Staying alone at Kedros beach, he acquired the name "Yiorgos of Kedros"and visited many times recording the remains of old times. Yiorgos' death in 2009 led Yiannis, his son, to continue his work, creating a story in which time is treated as a reconsideration of the present moment.
Lorenzo Benitez «Six Months to Salvation», 96 minutes (English, Full HD)
A group of young Australians, all recent graduates of the same Catholic high school, volunteer to teach English in rural Thailand on their gap year. Placed among the Karen hill tribe, an overwhelmingly Christian Indigenous minority in otherwise Buddhist Thailand, they gradually confront the possibility that their presence may be doing more harm than good. Directed by the only non-white volunteer, Six Months to Salvation is a self-reflexive documentary not only about whether 'voluntourism' is a modern form of colonialism, but the spiritual struggle to find meaning in one's mission.
Paul Diffley «Odyssey», 65 minutes (English, Full HD)
«Odyssey» is a road movie that celebrates the best of British trad climbing. From the bold Northumberland sandstone to the raging sea cliffs of Gogarth, four World'class climbers (James Pearson, Hazel Findlay, Hansjorg Auer and Caroline Ciavaldini) embark on a road-trip to attempt some of the most fierce and inspiring routes in the UK. Cinematic filmmaking, cutting edge traditional climbing and a 7.5 ton coverted truck – the Odyssey begins!
Paul Diffley «The Long Hope», 60 minutes (English, Full HD)
St John's Head on the island of Hoy is a wild and remote 1000-foot sea cliff. It was first climbed in 1970 by climber and poet Edwin Drummond. Drummond, together with Oliver Hill, took 7 days to climb the cliff, sleeping on ledges and in hammocks on the way. Now, 40 years later, Scotland's top climber, Dave MacLeod, is setting out to climb the cliff in a single day, finishing with a new desperately hard final pitch up the headwall. This new route will rate as the hardest climb of its type in the country.
Paul Diffley «Wide Boyz», 48 mintues (English, Full HD)
The world of offwidth crack climbing is a strange sub-culture rumoured to be dominated by knuckle-dragging, bar-brawling dirt-bags! The climbing is tough, painful and bloody. Two climbers from England, Pete Whittaker and Tom Randall, set out to explore this world and climb the world's hardest off-width. They complete a brutal two-year training regime, mostly spent hanging upside down in a suburban Sheffield basement, before embarking on a tour of the USA, culminating in an attempt at a world-record breaking off-width climb.
Paul Diffley «Distilled», 42 minutes (English, Full HD)
Scotland in winter is an arena where mountaineers pit their skills against exacting climbs often in ferocious conditions. It is respected by climbers around the world. Distilled examines what makes the climbing here so potent. Andy Cave first climbed in Scotland as a teenager. This was the start of a lifelong journey for Andy, which took him from the depths of a Yorkshire coal mine to the peaks of the Himalayas. As the story unfolds we see dramatic footage of Andy climbing some of Scotland's classic and most challenging winter routes in the full spectrum of conditions that Scotland's mountains can conjure. Distilled is a celebration of Scottish winter climbing and a poignant profile of a life spent in the mountains.
Paul Diffley «The Pinnacle»(2010), 60 minutes (English, Full HD)
In one legendary week on Ben Nevis in 1960 Jimmy Marshall and Robin Smith climbed six first winter ascents on consecutive days, including the mini Alpine-route Orion Face Direct. They also made the first one-day winter ascent of Point Five Gully, went for a walk, had a beer and got arrested over an incident with some dominoes! Exactly 50 years later Dave MacLeod and Andy Turner pay tribute by setting out to repeat all the routes that Smith and Marshall first climbed in that famous week. This film tells the story of the original events and follows MacLeod and Turner as they discover exactly what an achievement it was.
Paul Diffley «Transition», 54 minutes (English, Full HD)
Natalie Berry is one of the UK's leading female sport and competition climbers. Despite having lived in Scotland all her life, home to some of the best traditional and winter climbing in the world, she has yet to venture into the mountains so close to home. 'Transition' follows Natalie over the course of a year as she takes her first exploratory steps into a new world, closely following the highs and lows of the pursuit of a life in the mountains.